We are TEAM TRENDLOUD

Door no. 403
From a heart-broken bachelor to reaching great heights, Saga has now found fame as an actor.
Sitting for a chat show, he's asked 10 questions, and each question unveils a story that reveals his exciting and adventurous past. Door no. 403 has you laughing through-out the series, having you wanting for more.
Trend loud Trivia! Writer and director Yasmeen Parveen has based the series on her own apartment in Chennai, which was numbered as 403.

Writer & Directed by

Yasmeen Parveen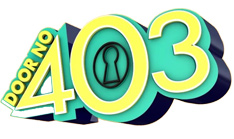 Cast & Crew
Gokul Anand
Pooja Devariya
Praveen Kumar
Syed Matheen
Harini Rameshkrishnan
Rakesh Ram
Quick Enquiry
Please drop in your details and we will get in touch with you shortly.